What is the Next Big Thing?
By Jeff Murray, CIO, University of Tasmania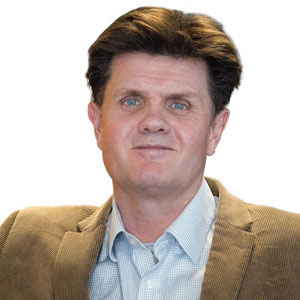 Jeff Murray, CIO, University of Tasmania
As a CIO I am often asked what is the next big thing? What's' going to change our lives or change the way we do things? The question is reasonable given we have seen the Internet, smart phones, Google, YouTube, Facebook and many more digital and social revolutions in the last two decades. The trouble is, more recently things are slowing down and this is why people are asking and almost expressing impatience with the speed of development. Scientists feel we are long overdue a major disruptive technological invention. Video conferencing promises but falls just short of being there and blended learning is better than online learning. We are getting both impatient for improvement and exhausted with the pace of change.
Major disruptive technologies have roughly occurred every five years since the beginning of the twentieth century. What are disruptive technologies? They are advances that transform life, business and the global economy. They have a big impact. They disrupt, which means they have positive intended impacts and negative unintended impacts.
So how do we predict disruption and why is it slowing down?
It is easier to deal with the last part of this question first. It is slowing down because we doing too much; there are multiple competing streams of development from applications (Apps) to robots, smart devices, mobile wearable technologies, wireless devices and multiple media channels. The connected world has opened up infinite opportunities to transform society.

How do we predict future technologies? We draw inferences from literature that canvasses a selected group of experts to predict where things are going. To research this article I drew on a variety of sources within and external to higher education and most align on what the future holds.

The next big thing

Future oriented technology articles predict things like a 'Youniverse' (an App we can use to manage and memorise our life), autonomous vehicles, the smart wardrobe and five-sense immersion. Future sophisticated devices will contain smart sensors enabling devices with robotic capabilities connected to the internet utilising artificial intelligence (AI). These devices will read human moods and reactions and adapt output to suit the user experience (adaptive computing).
Future sophisticated devices will contain smart sensors enabling devices with robotic capabilities connected to the internet utilising artificial intelligence (AI).
They will offer a fully immersive experience via flexible and holographic displays (immersive or virtual reality). The next big thing is a super smart, super connected robotic device than can immerse the user in augmented reality. A smart device connects, contains sensors, creates, and presents big data. Our campuses will feature many of these from interactive classroom walls, campus signage, Apps in the Café, holographic touch displays in the Library and so on.
Artificial Intelligence
The world's data stored on the Internet doubles every two years, yet only 0.5 percent is analysed. This is where artificial intelligence (AI) will help us. Two leading developments of AI have taken very different routes. One uses a super computer that uses neural networks (as statistical method that imitates cognitive function) to store and analyse textual or language based knowledge. The alternate leading example of AI is pixel based. As a visually capable machine, it can assemble millions of dots of information into a font and then text and then understands semantics and language. You can also show it a pair of glasses and it will tell you they are 'optical accessories,' 'eye glasses' to 'aid vision.' Both AI implementations understand cryptic clues and learn over time and so they get better at the tasks allocated. This is deep machine learning. AI will transform University systems and applications.
There is a University using AI to solve and answer student inquires. It has become very good at choosing an answer for student questions. AI will spread throughout University administrative, learning and research processes very quickly. AI is a computer that perceives the environment and takes action to maximise its success. It can learn and improve. These machines use neural networks (statistical methods that imitate cognitive function) to store and analyse knowledge. They automate menial and sometimes more complex tasks associated with roles like perhaps a Data Scientist.
IIn February 2017, the world witnessed the development of a computer capable of understanding, predicting and responding to human intuition. Can campuses use this more widely? Where can it change the campus?
The future campus will be more connected – not just student and staff devices. It will be 'fully wired' not through physical network connections, but almost every device will wirelessly sense information, send it for analysis through AI, read the results and adapt outputs to improve outcomes.
The right process to adopt technology is the key to success
When I paint this picture for my customers, sometimes they react strongly indicating their jobs will disappear – that would be an unintended impact. The intended impact is our roles will change and become more interesting; learning will become more efficient, collaborative, industry linked and engaging. I recently learned of a new role for a Robotics Ethicist. Alternative course opportunities will open up as these professions evolve so the technology will be both part of the course and the subject of many courses too. Whatever happens, universities haven't finished transforming just yet; the future holds much disruption and the agile will respond with responsible technology adoptions that adjust learning to meet the new world of digital professions we have only begun to imagine. Getting the right processes to select, adopt and implement technologies will continue to be a major success factor for the Campus CIO.